Designs by Amy Loh Kupser
Choose from ANY of my amulet, bracelet or necklace designs on the main website to add as a project, e-mail me if you have questions about how it would work with your project points.
Sweet Dreams (Shown above)

Blue, Teal &
Green Floral

Chocolate,
Teal Floral

Pecan, Lavender
Floral Splash

Aqua, Teal &
Purple Clouds


Orange, Purple,
Plum Floral



Purple & Blue
Raindrops

Pastel Cream &
Teal Vines

Orange, Purple,
Plum Texture

Sweet Dreams ............. 1.25 Point

Select Batik fabric choice in shopping cart.
MANY more color choices at the studio to choose from,
so don't worry about exact color now. You'll have the option to
"choose later" in the shopping cart.
This is the perfect size for your cruise room key or as a mini purse for your credit card and ID as you walk around town and not have to carry a purse! Explore bead embroidery and have some fun with fringing. This piece is both easy and complex. You decide how much to embellish it. Keep adding to it through out the whole cruise. You just need to zip up the sides and add the necklace and you can start wearing it immediately!
Each kit comes with two moon faces, eyes open and closed. Lovely lucite flowers or other beautiful accent beads, or stones, pearls, or other fanciful shapes to go with the colors of the fabric, plus a custom bead mix.
The pattern will include detailed instructions on different bead emboidery techniques, necklace options and more!
Klondike Amulet Bag
Bring a little bit of the Northwest back with you. This design represents more than just the Kondike but the great Pacific Northwest.
As each person places their project order you'll get your choice of the porcelain focals. Picture on the right is just a sample of the designs. I'll e-mail you a current photo as soon as your order comes in.
String the fringe elements and accent beads in your own unique combination for the necklace and around the bag will make it your own. Time to get creative or follow the original pattern.
The amulet comes in TWO color ways:
Kondike Forest - A combination of deep satin browns with AB coat and bronze, dark olive, burnt sienna and cream and amber accents.
Klondike Glacier - Soft teal blue greens, champagne beige, white, frost white, crystal sea foam and teal AB accents.
The fringe elements consist of daggers, crystals, seed beads, and natural stone to compliment each color way. Components will vary in each kit.
Klondike Amulet Bag ........ 1.2 Points

::::::::::::::::::::::::::::::::::::::::::::::::::::::::::::::::::::::::::::::::::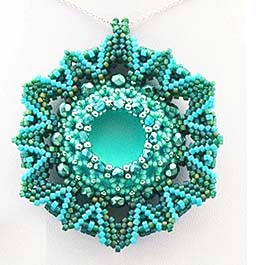 Designs by Ella Des
Ella is an amazing international designer. She travels the world by sail boat! Touching down here and there but never in one place long. She creates the most wonderful designs. Her patterns are super detailed with step by step photos along with her descriptions. I'm proud to offer these designs from her.
Zahara Pendant
A Lunasoft Cabochon glows softly from the middle of this fantastic pendant. Taking advantage of the contrast of the soft glow from the center to the sparkle of the crystals outside nestled inbetween the delicas and seed beads. Each color way will be tone on tone like the sample to the left. Extras of the color ways are available to swap or add!.
Ocean Breeze - Aqua / Teals .... Midnight Iris - Deep Purple / Black AB / Indigo ....
Tropical Splash - Lime / Tangerine / Fuchsia
Zahara Pendant ...... .3 Point

Babiole Bracelet
This is a fun and easy project for a great round bracelet. Multiple color ways will be available to choose from at the studio. From the great turquoise and silver shown. Each color way will either use silver twins and 11/0 or gold twins and 11/0 to match. Then choose your Primary color ranges the whole rainbow, you'll have my whole studio worth of beads to choose from!
Babiole Bracelet ...... .3 Point



Medini Bracelet
An elegant cuff bracelet featuring Czech Twins and Pearls. A fun day project to wear that evening! Featuring 4mm and 6mm Glass Pearls, Czech Twins, and assorted seed beads, this design will be available in multiple colors and you'll also have the ability to swap colors out to make it your own at the retreat.
Medini Bracelet ...... .4 Point

Annelies Bracelet
Beginner / Intermediate

Using two colors of Twins this bracelet comes alive. Instead of the 4mm Bicone, a 4mm Round is used instead.

This is a lovely cuff bracelet that lays nice and flat and is very flexible. We'll be using two hole slide clasp to make a true cuff bracelet instead of having that clasp gap!
::::::::::::::::::::::::::::::::::::::::::::::::::::::::::::::::::::::::::::::::::::::::::::::::::::::::::
Designs by Kelly Wiese ... TheBeadParlor.com
These are just a sampling of the designs Kelly will be sending for class projects. You can see her whole range of designs on her website. If you fall in love with something specific in a certain colorway let me know and I'll make sure to get it in and hold it for you!
Designs shown from left to right: Moonglow Pendant, Crystal Lariat, Modern Geometry Bracelet, Pagoda Bracelet, Bling Wing Earrings, Pagoda Ring, Squared Crystals Necklace, Crown Jewel Pendant, Antique Elegance Bracelet.
::::::::::::::::::::::::::::::::::::::::::::::::::::::::::::::::::::::::::::::::::::::::::::::::::::::::::
Designs by Laura Zeiner ... StickLizardDesign.com
NEW designer for the retreat! These are just a few of the options that are coming. Check out her designs on her website.
If you see something specific in a certain colorway you'd like to get for sure, let me know and I'll make sure to get it in and hold it for you!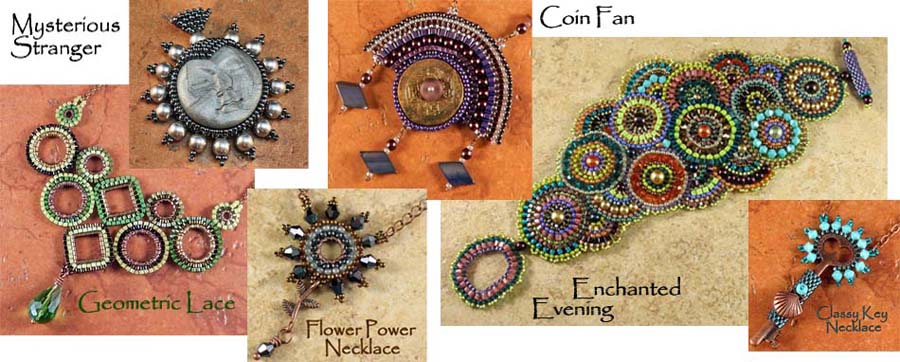 ::::::::::::::::::::::::::::::::::::::::::::::::::::::::::::::::::::::::::::::::::::::::::::::::::::::::::
Travel Goodies...
Design Save'n Go! Junior........ .25 Point

Keeps your projects-even small beads and tools -perfectly in place! Includes a design template and The Perfect Bead Mat which allows you to keep your project just how you left it! 1) Create on the built-in Perfect Bead Mat! 2) Not finished? No problem! Just close it! 3) Take your unfinished project with you! 4) Open it and everything is right in place (NOTE: Only if you don't tip it sideways!)
Beaders Starter Kit .......... .25 Point

New to beading? These are all the basics you will need to do the projects on the cruise or retreat. OR if you are a beader and have all the tools, but don't want to pack them all along. Now, they'll be waiting for you in your goodie bag!

Snips for Thread or Fireline
Beading Mat
Size 10 & 12 Beading Needles
Silamide
Thread Heaven

Tape Measure
6lb. Fireline 15 yd Spool Smoke
Bees Wax
Bead Scoop