• • PO Box 402 • Burlington, WA 98233 • Phone 360.271.1410 • E-mail Us • •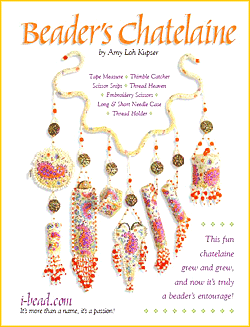 Beader's
Chatelaine

This fun chatelaine grew and grew, and now it's truly a "Beaders Entourage!"
The complete beaders tool kit. The basic tools all beaders need in their craft rooms.
Now you can have them all on display both a practical organizing method and a work of art!I hang this on my wall from two push pins.
You get 10 patterns in all, Tape Measure, Thimble Catcher, Scissor Snips Sheath, Thread Heaven Box, Embroidery Scissor Case, Long and Short Needle Cases, Thread Holder, Hanger and a Necklace design that can be used for any of the components. Scroll down to see all the fun projects!
Beader's Chatelaine Book ... $24.95

Tape Measure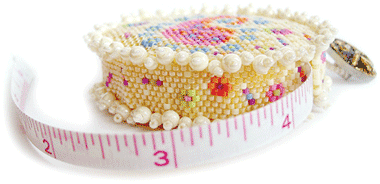 You have to measure your projects to make sure of the correct fit, so every beader needs a tape measure sometime!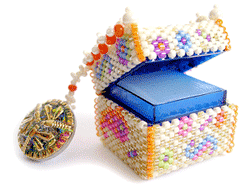 Thread Heaven
Thread Heaven is useful with Fireline and Nymo thread. Plus I just love the shape of this little box. I have a soft spot for boxes!