HOW TO GET THAT SOFT AND FLEXIBLE FEEL
(for circular peyote beadweaving using a form)
One of the hardest things to learn about beadweaving is how to get that soft and flexible feel to your work. Most often when starting out it has a very stiff brocade kind of feel. Sometimes this is preferable depending upon the application. To achieve a softer more flexible feel, try this tip.
Standard Form Sizing:
Size your form (toilet paper roll) by stringing your first row of beads and making it into a loop. Slide the loop over the split roll (only one side is cut) and keep it near the bottom edge, tape that end, slide the beads to the other side and tape it. Slide the beads off and tape the roll firmly shut.
Now for the tip:
If you were to use this form as is, your piece would come out too tight. Use an index card (like a recipe card or use the inserts in magazines, you know those anoying sign-up cards? They actually come in handy!) and ROLL it around your form tightly, TAPE it on firmly, and along the edge, you will need it to go around at least TWICE (if your form is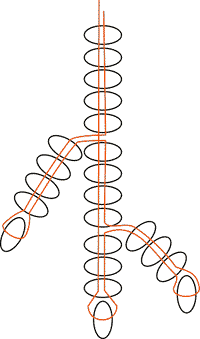 small, cut off the excess first before taping shut.) This will give you the necessary space to keep your beadweaving from being too tight. There should be AT LEAST a 3 bead GAP once you slide your bead loop back on, don't worry, it will dissapear after the first few rows.
BRANCH FRINGE
"Branch" fringe which has wonderful applications for different designs.
Add beads to desired length.
Go back up to where you want the first "branch." Usually 4 - 6 beads or more depending on how dense you want your fringe to be.
Eay embellishment ideas, add a larger or unique bead on the end of each branch, use different colored end beads, or diferent colored branches.
Print page
for future reference.